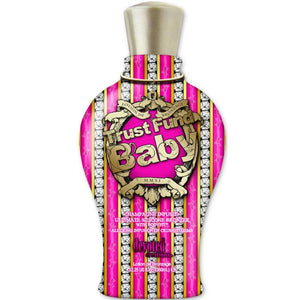 Devoted Creations Trust Fund Baby Tanning Lotion
Regular price
$37.95
$0.00
Unit price
per
Size: 12.25 fl. oz.
Fragrance: Sugar & Spice
With Crushed Gems and BodyFit™ Technology
TRUST FUND BABY™ allows you to be the diva that you were born to be! Bathe your skin with this champagne infused DHA free self tanner silicone bronzer. The extreme levels of silicone combine with the champagne blend and crushed gems to lock in moisture, leave the skin feeling soft and smooth and highlighting the glamorous features of the socialite within. BodyFit™ Technology will help to restore the skin's firmness while reducing the appearance of cellulite. Matrixyl™ will get you camera ready as it targets and fills in fine lines and wrinkles. The alluring sugar & spice fragrance will drive paparazzi wild as you step into your true inheritance as THE trust fund baby™!
DHA-Free Bronzer.
Extreme silicone blend.
Anti-aging and skin firming benefits with Matrixyl™ and Body Fit™ Technology.
Champagne Infused blend with crushed gems.
Blended with multiple accelerators that work to target melanin production and achieve fast, dark tanning results.
Contains the highest levels of silicone possible.
Champagne Infused blend featuring crushed gems that minimize tiny imperfections in the skin and highlight glamorous features.
BodyFit™ Technology – reduces the appearance of cellulite and restores firmness.
Matrixyl™ - targeted anti-aging complex that reduces the appearance of fine lines and wrinkles for long-lasting results.
FreshTek™ – proprietary blend of deodorizing and skin freshening ingredients.
---
Share this Product
---