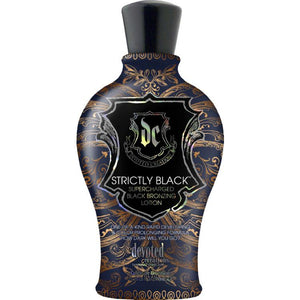 Devoted Creations Strictly Black Tanning Lotion
Regular price
$41.95
$0.00
Unit price
per
Size: 12.25 fl. oz.
Fragrance: Sweet Tangerine
Rapid Developing & Color Prolonging Formula
With Strictly Black™ you have hit the bronzing jackpot! This insanely dark bronzer is formulated with melanin stimulators to produce and prolong deep, dark bronzing results. Added Advanced Matrixyl Synthe 6™ and RevitaFit™ benefits make this product your go to lotion for fast visible bronzing and tightening results… Instantly! Dare to ask yourself, how dark will you go?
Extremely High Levels of DHA, Natural & Cosmetic Bronzers for immediate and delayed bronzing results.
Provides anti-aging and skin firming benefits with RevitaFit™, Body Fit™ and Advanced Matrixyl Synthe 6™
Melanin Stimulators.
NEW C5™ "Color Lock" Technology
Tattoo & Color Fade Protection.
High amounts of DHA, Natural & Cosmetic Bronzers deliver a deep, dark delayed and immediate bronzed result.
Advanced Matrixyl Synthe 6™ – Powerful anti-aging peptide that reduces the appearance of fine lines and wrinkles for long-lasting results.
Revita Fit™ - Tones and tightens the skin.
Body Fit™ - Reduces the appearance of cellulite and restores firmness.
Melatime™ – Stimulates melanin activity for enhanced pigmentation and long lasting results.
Tattoo & Color Fade Protection – Protects the color and luster of tattoos and tanning results.
New C5™ - Silicone feel, without the silicone. Lightweight, silk-smooth skin conditioner that helps lock in skin's moisture and tanning results.
Hibiscus - increasing skin elasticity to give a stunning natural youth-boost. Evens out skins tone and texture as well as helps to deeply hydrate.
White Birch – Restores firmness to the skin.
FreshTek™ - Proprietary blend of deodorizing and skin freshening ingredients.
Blended with multiple accelerators that work to target melanin production and achieve fast, dark tanning results.
---
Share this Product
---