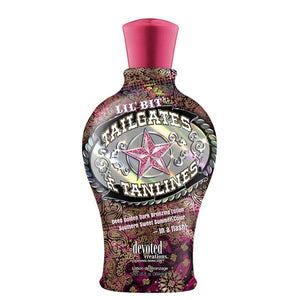 Devoted Creations Lil Bit Tailgates & Tanlines Tanning Lotion
Regular price
$30.95
$0.00
Unit price
per
Size: 12.25 fl. oz.
Fragrance: Summer Sunset
"Be the talk of the town with Lil Bit's new Tailgates & Tanlines™! This formula is fixin' to give you golden bronze results for flawlessly toned and tanned 'Cut-Off shorts' approved color. Freshtek™ and tattoo & color fade protectors make Tailgates & Tanlines™ your go to tanning partner! Whether a down home back roads bonfire or you're gettin' gussied up for a night at a honkey tonk… We reckon Tailgates & Tanlines™ will be the butter to your toast!"
FEATURES:
High levels of DHA and Natural Bronzers for optimal dark color
BB Crème Formula
Provides superior skin firming and tightening benefits with RevitaFit™, Matrixyl Synthe 6™ and Body Fit™
Skin Slimming and Toning properties
Gluten & Nut Free
Tattoo & Color Fade Protection 
Potent DHA bronzers for optimal, fast acting results.
BB Crème formula will prime, perfect and correct the skin for an overall more even, clear and youthful appearance.
Advanced Matrixyl Synthe 6™ – Powerful anti-aging peptide that reduces the appearance of fine lines and wrinkles for long-lasting results.
Revita Fit™ – Tones and tightens the skin.
Body Fit™ – Reduces the appearance of cellulite and restores firmness.
Hibiscus - increases skin elasticity to give a stunning natural youth-boost. Evens out skins tone and texture as well as deeply hydrates.
Hemp Seed Oil - Deeply hydrates the skin for better, longer lasting results.
Tattoo & Color Fade protector – Protects the color and luster of your tattoos.
FreshTek™ – proprietary blend of deodorizing and skin freshening ingredients.
Blended with multiple accelerators that work to target melanin production and achieve fast, dark tanning results.
---
Share this Product
---