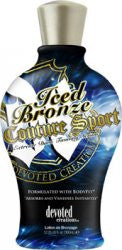 Devoted Creations Iced Bronzed Couture Sport Tanning Lotion
Regular price
$27.99
Sale price
$56.00
Unit price
per
Iced Bronze Couture Sport is an intense delayed bronzer that will give you dramatic bronzing results, noticeable within hours after your tanning session.
The oilfree serum blend will absorb quickly while it moisturizes and tightens sagging skin. These bronzers are blended with multiple tan enhancers, which work work to target your body's natural tanning process. During your session, the cooling formula will provide you with an energized and refreshed sensation. Matrixyl and BodyFit technology will tighten and firm the skin, leaving you looking Hollywoodready!
An amazing Arctic Island Blast fragrance will bathe your senses in paradise.
---
Share this Product
---