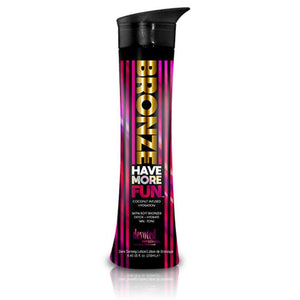 Devoted Creations Bronze Have More Fun Tanning Lotion
Regular price
$19.95
$0.00
Unit price
per
Size: 8.45 Oz.
Fragrance: Sugar Craze
Coconut Infused Hydration Satin Soft Bronzer That Detoxes, Hydrates as well as Tans & Tones.
They say Blondes have more fun but we believe Bronze Have More Fun! If you crave a splash of color, then look no further than Devoted Creations newest seductive bronzer! This super soft formula detoxifies, hydrates and tones the skin for glamorously glowing results! Its okay to be a tease, but not with your tan! After all, Bronze Have More Fun.
Formulated with various accelerators to speed up the tanning process for faster, darker results.
Camu Camu Berries – Compliment the body's natural growth and repair of tissues & collagen formation.
Sea Weed – Draws toxins out of the body. Bee's Wax – Contains skin conditioning and healing properties. Intense DHA formula blended with natural and cosmetic bronzers for super dark immediate and progressive bronzing results.
Provides immediate and long-term moisturizing benefits. Witch Hazel – Helps to reduce the appearance of pores, reduce inflammation, and tighten the skin. Phloritan - Antioxidant blend that works to reduce dark spots and even out skin tone
Lightweight DHA Bronzing Lotion Extreme Immediate and Progressive Bronzers Anti-Aging and Skin-Firming Benefits Pore Tightening Witch Hazel Potent Phloritan Paraben Free Formula
---
Share this Product
---