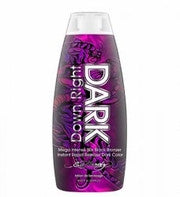 Ed Hardy Down Right Dark Tanning Lotion
Regular price
$16.99
Sale price
$34.00
Unit price
per
Product Type: Tanning Bronzer / Accelerator
Fragrance: "Passion Vanilla Orchid"
Size: 10 Oz.
You will be "Down Right Dark!" after just one session. This fast acting black bronzer will impart insane levels of DHA and Natural Bronzers for the fastest results you have ever seen.
To crank up the color - get down with Down Right Dark!
Rapid Release bronzing blend featuring DHA, Natural and Cosmetic bronzers
Melanin Stimulators
Skin Tightening and Toning
Super Fruit Antioxidants
Hemp Seed Oil
---
Share this Product
---